Grin is expected to Hard Fork to version 3.0.0 on the 16th January 2020. Cudo Miner supports this and we will be updating to version 3.0.0, which will be required to continue to mine Grin Cuckaroom29. The hard fork will occur at block height 524160.
Grin Hard Fork Changes
Grin keeps up its promise, with its second major hard fork, which happens every 6 months, continuing its focus on preventing ASIC's from joining the Cuckarood29 PoW network and preventing manufacturers building specialised ASIC hardware for it. Grin has tweaked its Cuckarood29 PoW algorithm, by changing its graph from Bipartite to Monopartite. As a result, there will be a new secondary PoW algorithm called Cuckaroom29.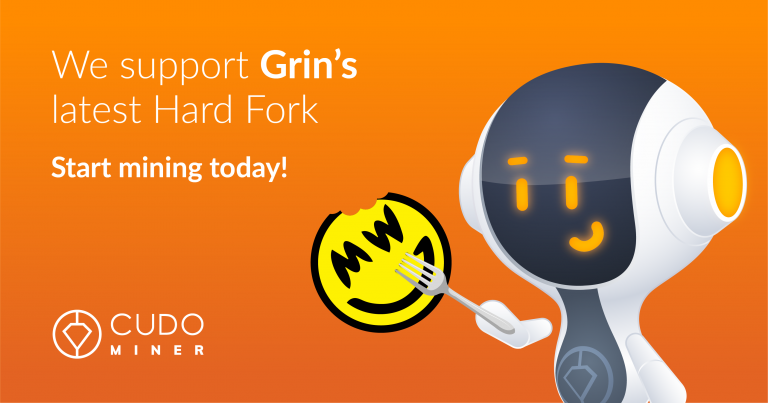 Notice to Miners
Expect a spike in profitability when the network updates to the latest version, you may also notice a large drop in hash rate, due to the difficulty of the algorithm increasing significantly.
Grin's Cuckatoo31 PoW remains the same and if not affected by the latest hard fork.
Find out how to mine Grin coin on Cudo Miner here
What is a hard fork?
"A hard fork is a radical change to the protocol of a blockchain network that makes previously invalid blocks/transactions valid"
– Jake Frankenfield 2019, Investopedia
A top-level overview would be; a hard fork is essentially a software update that makes changes to an algorithm on the blockchain network and all users, whether they are miners, pools, exchanges or wallets will need to update to the latest version in order to be compatible.